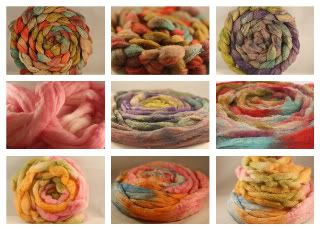 I have been trying and trying to figure out how to make photo collages for here,
Ravelry
and
Facebook
. Finally got a tip from a friend on Ravelry about
Photobucket
. Photobucket is the ticket for sure and it's FREE. You will be not be disappointed.
Here you are seeing my hand-painted rovings of
Gelatos
and Heathers that I have done so far for
Cordova Studios
. The
heathers
are dyed on corriedale/merino morrit (taupe) rovings I bought at the Kid 'n Ewe last November. The Gelatos are dyed on lofty, dreamily soft superwash merino. I am striving for paler, softer colors for summer. What do you think? Paler? Too pale?
Oh, I have not figured out how to center this on the blog yet.